Paraguayan unions lead the way for aviation workers' rights
April 25, 2019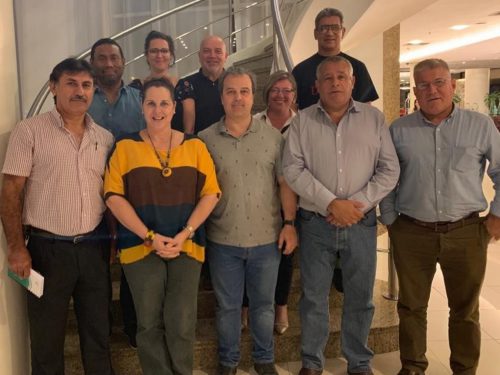 ITF civil aviation vice-president Edgardo Llano, civil aviation secretary Gabriel Mocho Rodríguez and ITF Americas acting regional secretary Edgar Diaz visited Paraguayan unions to congratulate them on a recent victory. The unions have succesfully won the reinstatement of 30 workers at the country's civil aviation authority, DINAC, who had been unfairly dismissed.
"We will continue giving support to all the sisters and brothers who were persecuted and stigmatised until all their rights are respected," said Mr Llano, also secretary-general of Argentina's Asociación de Personal Aeronáutico (APA).
The visit forms part of a project to strengthen the network of ITF-affiliated aviation unions across Latin America. Other participants included the ITF's Dina Feller and Patrik Bergvall, Cristina Cadavid of the Asociación Colombiana de Auxiliares de Vuelo (ACAV) and Jens Saverstam, head of international affairs at the Swedish union SEKO.
All visitors offered their support to the Paraguayan unions and reaffirmed their participation in the network, which continues to grow throughout the region.
Tags: ACAV, APA, Argentina's Asociación de Personal Aeronáutico, Asociación Colombiana de Auxiliares de Vuelo, DINAC, Paraguay, reinstatement, Seko, solidarity