#LATAM why are workers shouldering the full weight of the #COVID-19 crisis?
July 19, 2020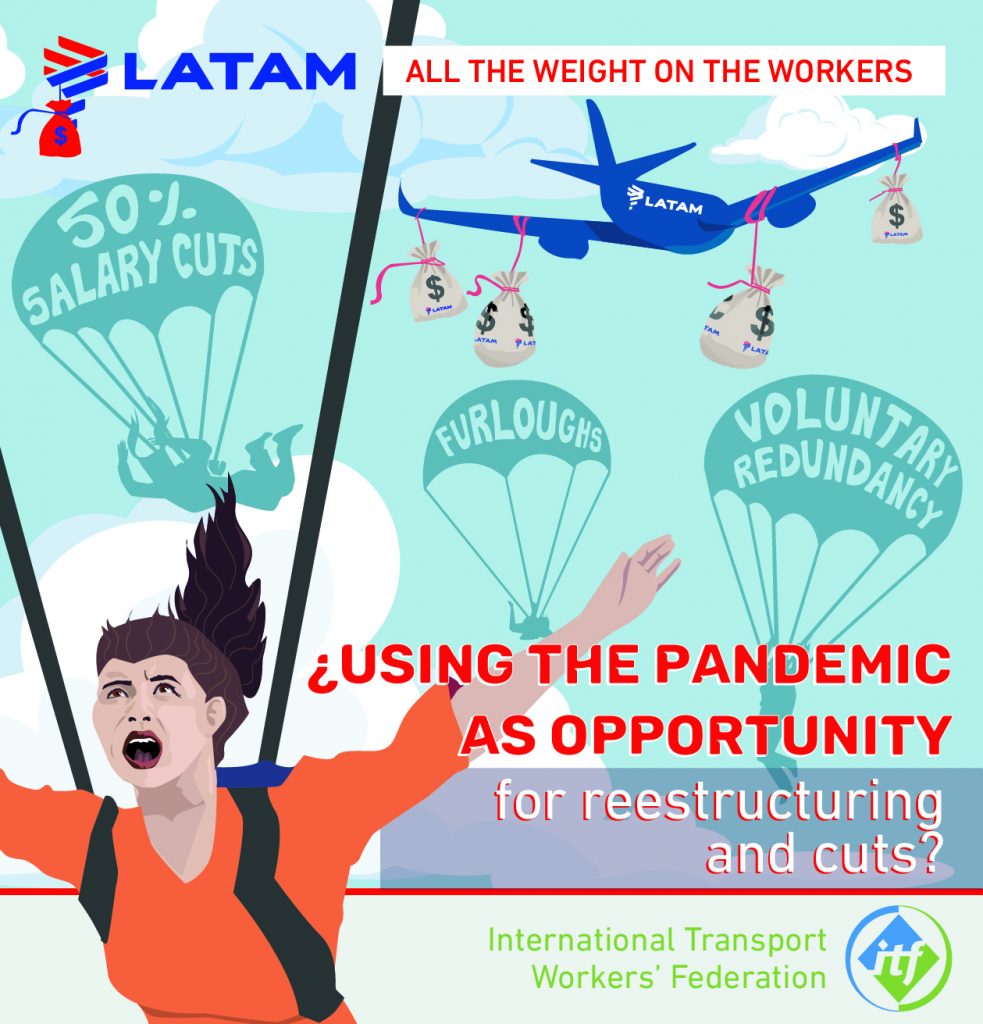 The ITF and our affiliates that form the LATAM Group in Chile, Peru, Argentina, Colombia, Ecuador, Brazil and Paraguay are exposing how the company is using the pandemic to attack workers' jobs, pay and conditions.

We are committed to the fight so that #NoWorkerIsLeftBehind!

#NoAlaExtortionLATAM
#WeAreITF
---
LATAM secures new financing to help stave off bankruptcy (batimes.com.ar)
Latin America's biggest airline LATAM announced on Thursday it has secured US$1.3 billion in financing from a US investment fund to help it survive the aviation industry crisis brought on by the coronavirus.

LATAM filed for bankruptcy in the United States in May, having been forced to scale back its operations by 95 percent due to the pandemic as travel ground to a halt worldwide.
Oaktree Capital Management pledged the US$1.3 billion after LATAM had secured $900 million in credit from Qatar Airways and the Cueto and Amaro families, who are already shareholders in the Chilean-Brazilian company.
It means that LATAM has managed to complete two sections, A and C, of the financing proposal it presented under Chapter 11 of the US bankruptcy process.
Read full news story from here>>
* * *
A note from the ITF

As a rule of thumb, aviation unions want to see the companies they organise do well since a thriving, well-run business is good for the workforce too. On 21 April 2020, the ITF and the International Air Transport Association (IATA) issued a joint statement calling for support from governments to the aviation industry, to protect jobs and ensure that air services can be maintained. Therefore, the ITF welcomes this news.

On the other hand, business media is generally worker-blind and this important news story fits into the general picture in this respect. ITF affiliated unions that form the LATAM Group in Chile, Peru, Argentina, Colombia, Ecuador, Brazil and Paraguay are working flat out with the support of the ITF to defend LATAM workers' health and jobs during the COVID-19 crisis. LATAM Group workers have already made enormous contributions and sacrifice. LATAM unions and the ITF will continue to work hard to make sure that these are not forgotten now or during the post-COVID period.
Tags: COVID-19, employment conditions, LATAM, solidarity, struggle