ITF Young Aviation Workers' Summer School
July 6, 2020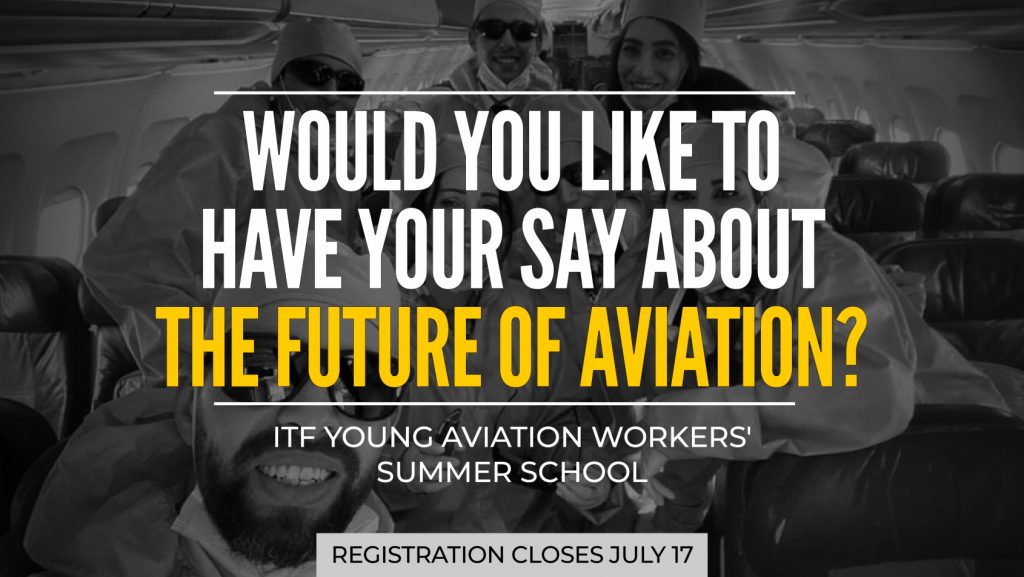 Join us for this year's ITF Young Aviation Workers' Summer School.

At this unprecedented time for civil aviation, we need to ensure young voices are heard.

Where:

This year's Summer School will be held as a series of online webinars due to travel restrictions.

When:

Europe/Africa/Americas/Arab World

21 July 2020: 14:00 – 16:00 (UK Time)
23 July 2020: 14:00 – 16:00 (UK Time)

Asia Pacific

27 July: 07:00 – 09:00 (UK Time)
29 July: 07:00 – 09:00 (UK Time)

The programme

The programme aims to promote learning and sharing to increase the visibility of young workers in civil aviation, and will cover issues such as:
Overview of the Covid-19 pandemic and the disproportionate impact on young men and women in the aviation industry
What role unions and young activists have in the post-pandemic 'new normal'
Campaigning in the aviation sector, online/digital campaigning experiences
Young workers' vision on the future of aviation
Who should attend the summer school?
Young trade unionists working in the Civil Aviation sector, age 35 and under, who are active in their unions and keen to be more involved in international work.
Participants should have a good understanding of trade union issues and challenges. They should also have some knowledge of the ITF and its activities.
The webinars will be in English with specific languages available for simultaneous interpretation.

Young women participants are especially encouraged to apply for a place at the summer school.
Participants of the summer school will be expected to do preparatory work, make presentations and follow up with activities in their unions after the event.

A selection process will take place in order to guarantee that the above criteria and gender balance are met. After the registration deadline has passed, you will receive an email to confirm if you have been selected to attend the summer school.

Please click one of the links below to register for the summer school, as soon as possible, but in any event no later than Friday, 17 July 2020.

Register here:

Europe/Africa/Americas/Arab World – https://bit.ly/3dTIreV
Asia Pacific – https://bit.ly/3dUgCDq
Tags: future of aviation, solidarity, summer school, union education, young workers