ITF supports call to stop using coup as union busting excuse
August 15, 2016
ITF general secretary Steve Cotton has protested to Turkey's prime minister, aviation and transport ministers, and aviation authority, over the suspension of two airport workers. He acted after ITF union BTS (United Trade Union of Transport Employees) alerted the Federation that the two appeared to be victims of an opportunistic attack by airport officials using the country's failed coup in as an excuse.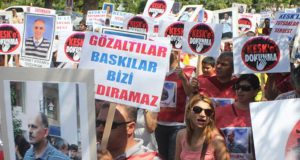 Steve Cotton informed the prime minister that the two BTS members, Sultan Tugay Karakus from Elazıg Airport, and Nazim Sarsilmaz from Siirt Airport, were reportedly suspended on the grounds that they were 'supporters of the coup attempt' in Turkey.
He wrote: 'Like the rest of the world trade union movement, the ITF and its Turkish affiliates, including the BTS, have strongly condemned the failed coup in Turkey and offered their deepest condolences to the victims. Unconstitutional attempts, especially involving military force to seize political power and overthrow a democratically elected government, are unacceptable.
'On the other hand, we are also deeply concerned with the drastic purge launched by the Turkish government. The coup attempt shouldn't be used as an excuse to eradicate democratic opposition through a state of emergency.
'We urge you to act without delay to ensure that all charges against Sister Karakus and Brother Sarsilmaz be immediately and unconditionally withdrawn and we look forward to hearing from you in this respect.'
Ishak Kocabiyik, BTS general secretary, explained that the union believes the suspensions are directly linked to the two workers'' union membership. It was particularly ironic, he said, that the excuse used was 'support for the coup' when the union and its members had volubly and publicly resisted the putsch attempt.
Tags: BTS, solidarity, state of emergency, Turkey, unfair dismissals, United Trade Union of Transport Employees