Emirates ordered to revoke dismissals of 3 Japanese union workers (a news story from Kohkuren, Japan)
March 2, 2017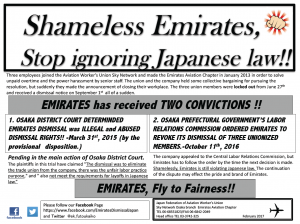 On 11 October 2016, the Osaka Prefectural Government's Labour Relations Commission ordered Emirates airline to revoke its dismissal of three unionised Japanese employees as it constitutes an unfair labour practice.
On 31 March 2015, the Osaka District Court had already issued a provisional disposition that "abuse of the dismissal right, invalidation of dismissal, ordering payment of part of wages", and this successive victory of the order by Osaka Prefectural Government's Labour Relations Commission of 11 October 2016 caused a big step of the future winning battle.
Emirates appealed for reconsideration. The first investigation on the re-examination petition was conducted at the Central Labour Relations Committee on 26 January 2017. Forty-seven respondents came from the association of members of the association from the Japan Federation of Aviation Worker's Union (Kohkuren). The second investigation will be held on 4 April 2017.
The three workers entered the Dubai-based airline company in 2012 and were assigned to a customer contact centre for ticketing in Osaka Prefecture. In January the following year, they formed their union in order to resolve the issues of unpaid overtime and power harassment from their boss.
In June 2014, Emirates ordered the three to stand by at home after closing down the contact centre under the pretext of a drop in company performance and dismissed them three months later.
The union members of the Japan Federation of Aviation Worker's Union and the supporters have repeatedly advertised and appealed actions against Emirates branch offices in Tokyo and Osaka, at Narita International Airport, at Kansai International Airport, and on the streets of major cities.
Also see, Emirates dismisses 3 workers due to closure of branch offices
Tags: Emirates, Japan, Kohkuren, solidarity, unfair dismissal