Chile union delivers food to airport workers in LATAM protest
February 19, 2016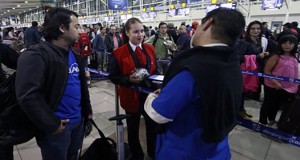 A trade union has delivered snacks to LAN workers on shift at Santiago airport, Chile, to draw public attention to the way the company treats its aviation workers there.
The Union of Airport Workers (Sindilanex) said LAN (part of the LATAM group of airlines) workers at the airport have to spend up to six hours without eating, work excessive hours and work with a lot of student interns (trainees who receive less than a third of the salary of skilled workers).
It says this is causing stress which threatens workers' health and poses risks for flight safety.
These measures are not isolated but are part of innovations and the 'remote office' cost reduction programmes across the region, says Sindilanex.
It cites a new maintenance system that means reducing a significant number of technicians and dispatchers, who are critical to crew and passenger safety. It says that in Ecuador, for example, crew are made to work more than one shift a day, in contravention of the national minimum rest agreement.
The union delivered bags with juice, cereal bar, peanuts and candy to dozens of LAN employees on the morning of 12 February.
Roberto Lucero, Sindilanex president, said: "This action for our colleagues at the airport is our demonstration of concern over the series of measures taken by LAN that are affecting the health and rights of our workers."
ITF civil aviation section secretary Gabriel Mocho commented that the action was just the latest protest over LATAM's treatment of its workers in the region, following strikes in Brazil and Argentina and plans for action in Colombia.
He again urged the company to finally accept the unions' offer of dialogue with a global group of LATAM unions on social issues to prevent disputes, which it had so far ignored.
Show your support for the LATAM workers on Facebook and on Twitter.
Tags: Chile, flight safety, LAN, LATAM, Sindilanex, solidarity, The Union of Airport Workers