Bangkok's airport workers still waiting on rights
March 24, 2021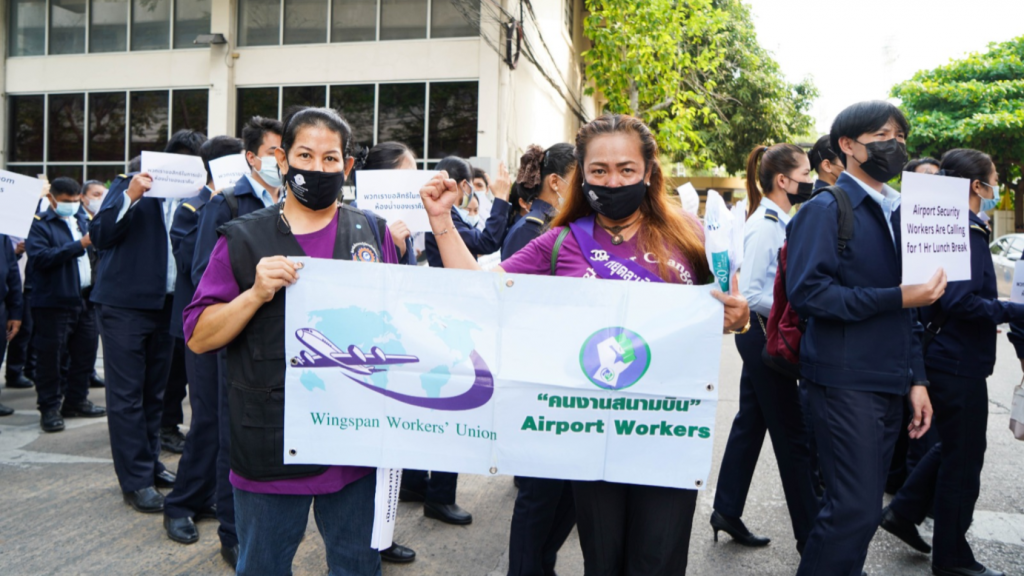 Ten days since Thailand's Labour Minister promised to address labour abuse of workers at Bangkok airport, little progress has been made.
Hundreds of security staff had protested contractual changes that had stripped them of basic rights, such as access to toilets, lunch breaks and first aid rooms. Those changes included forced resignations and arbitrary dismissals, as well as the termination of most of their union committee.
Although the Labour Minister, AOT and AVSEC had said they would immediately resolve the violations of workers' basic rights at a meeting with the union, workers say this has not materialised.
Of 242 workers surveyed this week, 65.3 percent said they were still being denied lunch breaks. In response to the concerns raised by WWU-AWT, AVSEC instructed workers to sign to accept a half hour lunch break at their workstation. In effect, this means workers never actually have lunch because they are not allowed to take lunch breaks at their workstation.
Workers also continue to be unable to access the toilet, meaning they are forced to soil themselves or hold it in, at risk to their personal health. In addition, 10 security workers have recently been terminated for not meeting the education qualifications for a job they have been doing for a number of years. These workers, members of the WWU-AWT, also lost their years of seniority as a result of being transferred between companies to continue doing the same job they did before.
This video, released by WWU-AWT, exposes the shocking working conditions at Bangkok airport and the collective struggle to remedy them. As AVSEC's board members meet today, the ITF supports our affiliate's demands to AVSEC, the immediate employer and AOT, the airport operator which also has an ownership stake in AVSEC.
Gabriel Mocho Rodriguez, ITF's civil aviation secretary, said: "The workers who keep Bangkok airport and its passengers safe are being stripped of their dignity. Behind the airport's shiny exterior is a much grimmer reality: a place where workers are forced to soil themselves and fall ill because they are barred from the right to use the toilet. This is just one of many of the violations WWU-AWT is demanding action on. AOT must take its responsibilities as an airport operator seriously and immediately work with WWU-AWT to ensure that this never happens again."
The ITF supports WWU- AWT's demands to AVSEC and AOT to immediately:
Actively ensure workers are able to take lunch and toilet breaks
Reinstate the 10 workers who have been terminated on the pretext of inadequate education qualifications
Establish health and safety committees that include worker representatives for both AOT and agency workers employed across Bangkok airport
Tags: Airports of Thailand Public Company, AOT, AVSEC, Bangkok airport, employment conditions, protest, solidarity, Wingspan Workers Union and Airport Workers Union of Thailand, WWU&AWT