A year on from its first crew strikes, Ryanair still has to clean up its act
April 17, 2019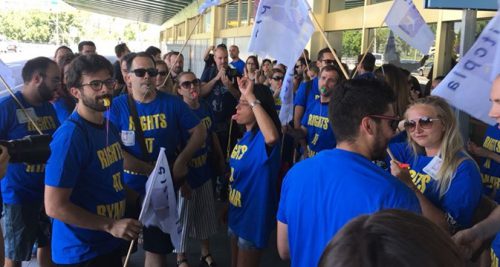 One year on from the first cabin crew strikes at Ryanair, some progress has been made in the company's industrial relations. However, the airline still needs to enact substantial changes to put its business on a sustainable footing.
Easter weekend 2018 saw Ryanair cabin crew walk off the job for the first time in the company's 30 year history. In the following months, workers assembled in Dublin to publish a Ryanair Crew Charter of demands and mounted a series of further strikes in multiple European countries.
Having forced the airline to the bargaining table, over 80% of the pilot and cabin crew workforce is now covered by union recognition, with 50% benefiting from some combination of compliance with national law and collective bargaining. However, while the majority workers are still without concrete improvements to their pay and conditions, Ryanair has also yet to overhaul its business model to prepare for a unionised future.
Just last month, the Dutch labour authority ruled that Ryanair cannot fire the workers formerly based at Eindhoven Airport who were affected by its decision to end operations there rather than negotiate with unions. In Poland, workers are taking legal action against the company after it forced them into self-employment in violation of their fundamental right to freedom of association and disregarded their legitimately established union.
Meanwhile, the latest annual report on the EU's emissions trading scheme has placed Ryanair in the top 10 worst European companies for greenhouse gas emissions, where the other nine entrants are companies operating coal power stations. Ryanair's response attempted to disregard the findings, describing itself as "Europe's cleanest and greenest airline".
Stephen Cotton, ITF general secretary, said: "There's no doubt that progress has been made at Ryanair since the first strikes last year, but we shouldn't underplay the immense work left to do. Despite the company's announcement in 2017 that it would recognise unions, over two-thirds of the workforce have yet to feel the positive effects of proper collective bargaining."
"Meanwhile, the airline seems intent on pursuing its traditional union-busting strategies where it thinks it can get away with poor practice. The recent Dutch ruling – which would not have been won without the tenacity of our affiliate union FNV – shows that not even Ryanair can hide forever from its basic obligations. Given these ongoing problems, we're still on alert for potential industrial action in multiple jurisdictions."
Frank Moreels, ETF president, said: "If Ryanair really wants to be seen as a fair employer it should directly employ crew rather than try to weaken workers' rights through agency or self-employment. Manipulating workers' contractual status in an effort to damage union activity is unacceptable."
"Furthermore, the company's response to being branded one of Europe's worst polluters suggests its senior leadership is still semi-detached from reality. Ryanair should just accept that workers, unions and the general public won't let matters lie until the airline can prove it has genuinely changed for the better."
Tags: anti-union, industrial action, Ryanair, solidarity, strike, union organising