Wizz air: Stop union busting now! The campaign continues!
January 8, 2015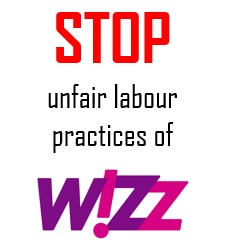 Our blog on the 27 November 2014 brought you news of the sacking of the leadership and 19 cabin crew members by Wizzair Bucharest (Romania) and our Labour Start Campaign to support them.
To date a total of 9,100 have supported the dismissed workers by signing the petition!
Join the campaign now and let Wizzair know that these antiunion tactics are unacceptable.
The campaign is now available in the languages below, click, sign the petition and share:-
English
Norsk
Magyar
Svenska
עברית
Français
Türkçe
Nederlands
Bahasa Indonesia
Deutsch
česky
Esperanto
Italiano
Español
Limba Română
Tags: anti-union, low cost airlines, unfair dismissal, union busting, Wizzair