Solidarity with Canada's transport workers in upcoming election
October 18, 2019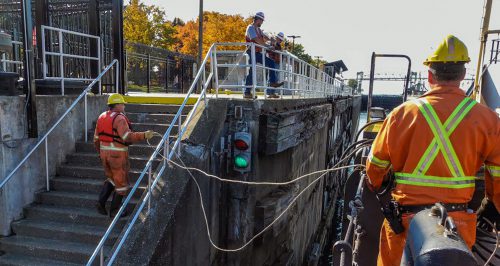 Statement from ITF general secretary Stephen Cotton on the upcoming Canadian election.
As the Executive Board of the International Transport Workers' Federation (ITF) gathers in Montreal, Quebec, Canada for its general meeting, workers across the country are preparing to head to the polls on October 21 for a federal election. The ITF is the global transport workers' federation, connecting affiliated unions representing over 18.5 million working men and women from 147 countries across the globe.
The ITF Executive Board, which is comprised of elected representatives from affiliated unions, sends a message of solidarity to the thousands of workers in Canada's transportation sector who will shape the outcome of next week's election with their votes. As right-wing governments across the world continue to devastate labour rights and social programs for workers globally, this is an opportunity to remind Canadian workers of what is at stake in this upcoming election.
Workers in the transportation sector must remain united in our common goals – to promote respect for trade union and human rights worldwide and to use our collective voice to endorse political outcomes and policy that promotes equality, prosperity and fairness for workers in all sectors.
As Canadian workers head to the polls next week, it will be imperative for them to support candidates who will empower and invest in the working class and to support those who stand for social justice and respect for all people.
The choice for workers is clear. Andrew Sheer and the Conservative Party of Canada will roll out regressive policies to suppress the rights of workers and unions, will cut social programs, education and healthcare funding to the detriment of millions in the middle class and will continue to promote populist right-wing policy on immigration and other social issues that have no place in a progressive country like Canada.
In the transportation sector specifically, the Conservative Party has already revealed their resolve to liberalize and dismantle legislation that protects Canada's transport workers, across maritime cabotage, aviation, road, rail and urban transport, all to benefit large corporations who seek to open markets to exploit and abuse vulnerable workers and drive down wages and working conditions domestically. The marine cabotage sector alone accounts for over one hundred thousand direct jobs in Canada.
It is no mistake that the ITF Executive Board is being held in Montreal, it is show of strong solidarity and support to Canada's transport workers in direct response to the neoliberal threats posed by the Conservative Party.
On October 21, the message from Canada's transportation Unions will be united, swift and clear – the working-class men and women in this country reject the divisive politics of the Conservative Party and will be resolved in our determination to elect a Government that offers all workers opportunity, equality and fairness.
On behalf of the ITF Executive Board, I extend our strongest message of solidarity and support to Canadian workers for a successful election outcome as they elect Canada's 43rd Parliament next week.
Tags: Andrew Sheer, Canada, elections, ITF Executive Board