Ryanair crew get justice in the Netherlands
October 3, 2019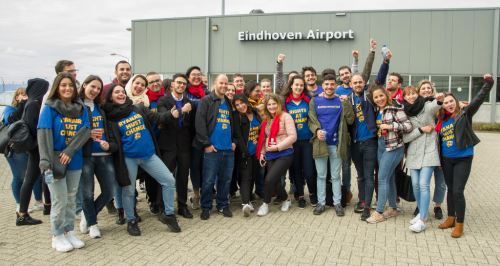 A Dutch court has ruled that Ryanair must compensate workers made redundant by the closure of its base at Eindhoven Airport last year.
Last October Ryanair announced it would close its Eindhoven base, citing the impact of industrial action over the summer. ITF, ETF and our affiliates – including FNV, the union representing cabin crew in the Netherlands – condemned the move as an attack on workers' fundamental rights.
In March this year, the Dutch labour authority (UWV) affirmed the unions' position by ruling that Ryanair had no legal grounds to dismiss the 16 pilots and 15 crew affected by the closure. Instead, the airline was obliged to continue paying the workers until a court decision determined a compensation package.
The outcome of the case means that all workers who refused a transfer to another base will receive compensation in accordance with national labour law. Those who remained party to the case until the resolution will also receive their full wages backdated to the closure of the base, plus six months' wages in additional compensation.
ITF and ETF continue to support a network of affiliated unions representing Ryanair workers, demanding that the airline adopts mature industrial relations across all countries it operates in.
Tags: anti-union, compensation, court case, Eindhoven base, legal victory, Ryanair, union organising