Report reveals that renationalisation of Aerolíneas Argentinas worked so well
December 7, 2015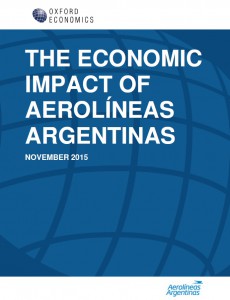 A recently issued report by the Oxford Economics entitled "The economic impact of Aerolíneas Argentinas" details the substantial contribution Aerolíneas makes to the Argentina, which is quantified in terms of its contribution to the GDP and employment.
The current situation of the airline is in stark contrast with the situation when it was in private hands between 1990 and 2008.
In 1990, a consortium led by Iberia took control of the airline, and Grupo Marsans acquired the company and its subsidiaries in 2001, following a period of severe financial difficulties that put the airline on the brink of closure.
The ITF affiliated aviation unions of Argentina organised long-term and heroic campaign to save their airline and to fight against privatisation.
As a result of this struggles, in 2008, the Argentine government under President Cristina Kirchner announced that it would renationalise the country's largest international and domestic carrier in a bid to rescue them from bankruptcy.
For ideologically motivated neo-liberals this was madness and was something that went against modern economic mantra. After seven years the report issued by Oxford Economics proves them wrong.
In the report's own words:
"Aerolíneas Argentinas makes vital connections both domestically and globally, serving 9.4 million passengers in 2014 and aiming to carry close to 10.5 million in 2015.
"Aerolíneas makes a substantial contribution to the Argentinian economy.
"The airline's impact ripples through the Argentinian economy supporting jobs across many sectors. The company employs over 11,000 workers in the country but in 2014 Aerolíneas' operations made in total a US $ 1.7 billion contribution to the Argentinian economy and sustained 41,100 jobs. Its impact is widespread in the Argentinian economy. For every dollar of direct operational expenditure made by the company, nearly US $3 of additional value added benefit was created. For each directly employed Aerolíneas worker an additional 2.7 workers are employed elsewhere in the Argentinean economy.
"Aerolíneas' economic impact goes well beyond its core economic footprint, in particular it facilitates activity in the tourist economy.
"Aerolíneas' total operational and international tourism economic impact therefore amounts to a US $2.6 billion contribution to GDP."
Download the full report in pdf format from here>>
Tags: Aerolíneas Argentinas, Argentina, nationalisation, neo-liberalism, Oxford Economics, privatisation