Qatar World Cup Workers' Standards: no legal enforcement, no worker rights (ITUC)
February 12, 2014
Qatar's new World Cup worker welfare standards do not deliver fundamental rights for workers and merely reinforce the discredited kafala system of employer control over workers, warned the International Trade Union Confederation.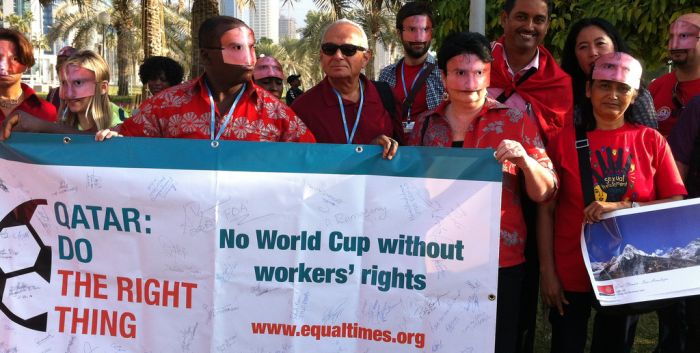 "Forced labour continues in Qatar today with no workers' rights. No migrant worker can be protected by any safety standard unless they have the right to collectively speak out about wages and conditions at work," said Sharan Burrow, General Secretary, ITUC.
The kafala visa sponsorship system ties workers to their employers, as they cannot leave the country or move to another employer without permission. Qatari law denies migrant workers the right to form or join trade unions.
"Not a single change has been made or recommended to Qatar's laws that deny workers their fundamental rights. No workplace voice or representative is allowed for migrant workers in Qatar. A worker welfare officer appointed by the employer is no substitute for a duly nominated worker representative.
"The promise to provide freedom of movement for workers is a sham, as Qatar enforces segregation of workers on a racial basis.
"These standards are built on an old, discredited self-monitoring system which has failed in the past in Bangladesh and other countries where thousands of workers have died.
"With no legal compliance mechanism such as a tribunal, there is no possibility of enforcing even these provisions," said Sharan Burrow.
The Supreme Committee Welfare Charter:
• Foresees the use of illiterate workers who can use a thumb print to sign documents;
• Provides one social worker for 3500 employees, who is able to spend at most 41 seconds per week dealing with each worker;
• Sets up a telephone hot line for worker complaints with no detail of who will answer the phones, or the process as to how grievances will be handled. The existing hotline has been a complete failure;
• Would mean labour camps with a total area of 8 million square meters are needed for the 500,000 extra workers that Qatar says will be required to build the World Cup;
• Fails to set up a system to record deaths of workers or to ensure autopsies;
• Recommends recruitment agencies approved by the Ministry of Labour, who routinely charge fees despite laws that prohibit these practices;
• Has no reference to 'heat' in regard to working conditions in a country where workers toil in up to 50 degrees for half the year;
• Indicates no intention to prosecute contractors for breaches; instead workers are simply sent home to their country;
• Only applies to a limited number of workers in Qatar.
"If FIFA are serious about Qatar continuing to host the World Cup in 2022, they will demand freedom of association such that workers can be represented by those they choose.
"They will demand immediate steps to end kafala, immediate steps to give workers the rights to negotiate wages and conditions and set up effective legal compliance through a tribunal system for complaints," said Sharan Burrow.
"This charter is a sham for workers. It promises health and safety but … (view full article here >>)