One year on, Ryanair still needs to stabilise its industrial relations
December 12, 2018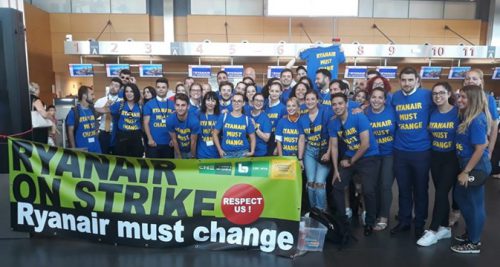 A year after Ryanair announced it would recognise unions, the company still has a long way to go before it can be considered a fair employer.
On 15 December 2017, under immense pressure from workers and facing looming challenges to its growth plans and corporate governance, Ryanair announced that it would recognise unions for the first time. Today, the International Transport Workers' Federation (ITF) and European Transport Workers' Federation (ETF) have published a report examining the progress the airline has made and what remains to be done.
The report – A Year of Change? – acknowledges that Ryanair workers have won improvements in some areas, but shows that many of the issues which led to repeated industrial action over the summer have not been resolved. Crucially, while recognition agreements have been signed with unions in some jurisdictions, the majority of workers have yet to see any substantial improvements in pay or conditions.
In addition to this, the company faces ongoing scrutiny of its corporate governance practices. Ahead of its annual general meeting in September, multiple investors and shareholder advisory firms joined ITF and ETF's call to oust chairman David Bonderman, who has proven himself incapable of holding the executive management to account. Although Mr Bonderman remains in post, one-third of shareholders either voted against him or registered an abstention.
Meanwhile, both Ryanair and chief executive Michael O'Leary are being sued in the United States for allegedly misleading investors over the company's industrial relations situation, which may have served to unfairly inflate its share price. And despite his claims of progress, just last week Mr O'Leary was voted the world's worst boss in a public poll conducted by the International Trade Union Confederation.
Stephen Cotton, ITF general secretary, said: "A year on from its recognition announcement, Ryanair is trying to claim it has achieved industrial peace. In fact, our report shows that many of the issues that triggered strike action have yet to be resolved."
"We commend the workers and our affiliate unions who have fought to win change at Ryanair. In 2019, the fight will continue to transform Ryanair into a sustainable, unionised business."
Eduardo Chagas, ETF general secretary, said: "There are few business which pose a greater threat to the European social model than Ryanair. I'm proud that our movement is tackling this company head-on. Above all, we've broken the silence around Ryanair's abusive business model so that staff can speak up without fear."
"Nevertheless, concrete progress is slow. Ryanair will not see the end of this worker unrest until it puts its practices of social dumping, exploitation and union-busting firmly in the past. As part of our Fair Transport campaign, we will continue to challenge any business which thinks it doesn't have to play by the same rules as everyone else."
Tags: anti-union, Michael O'Leary, Ryanair, union organising