'No voice' protest during Qatar Airways sponsored festival
June 28, 2016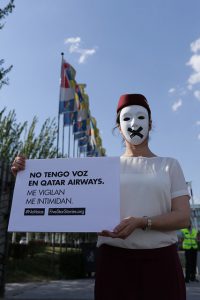 Visitors to a Bollywood film festival in Madrid over the weekend were met by a truck featuring a masked and gagged cabin crew member. The truck was driving around the perimeter of the Qatar Airways (QR) sponsored International Indian Film Academy Awards as part of a protest against the company.
The action was the latest in the ongoing International Transport Workers' Federation (ITF) campaign against QR, an employer that denies its workers the right to join a union and subjects them to surveillance and intimidation.
The message featured on the bus read: 'Drama, horror, tragedy – you'll see it all at the film festival in Madrid this week. Workers at festival sponsor Qatar Airways are experiencing this every day.'
Gabriel Mocho, secretary of the ITF civil aviation section said: "This image has featured in our campaigning around the world again and again. Our unions are outraged that Qatar Airways crew have no voice because they aren't allowed to organise and join a union. They are put in a position where they are scared to speak up about their experiences of working for the airline. Our unions are committed to raising awareness about that and sending a clear message to QR as you can see from protest action they've been taking."
Get more on the ITF campaign on Qatar Airways.
* * *
Please feel free to use the attached photographs from Friday's action and other union actions featuring the 'No Voice' imagery that you can access here.
Tags: anti-union, International Indian Film Academy Awards, Madrid, No Voice, protest, Qatar Airways, women's rights, WORKERS RIGHTS