Landmark ruling in favour of Ryanair crew
June 14, 2019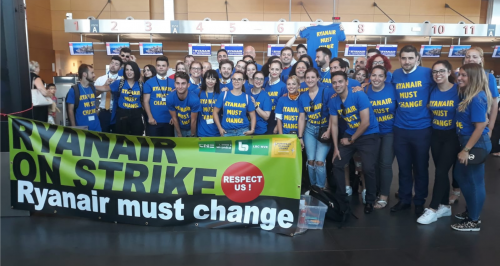 In a decision with wide-ranging consequences for European aviation, a Belgian court has ruled that Ryanair cabin crew are subject to national labour law.
The ruling marks the latest episode in a legal saga involving the Irish low-cost carrier, which traditionally employed all its pan-European crew on Irish or British contracts as a way of minimising labour costs. In 2011, former Belgium-based crew sued Ryanair in a local court, alleging that they should have been employed in accordance with national law.
In September 2017, with the case escalated to the EU level, the European Court of Justice ruled that Ryanair crew have the right to take their employer to court in the country in which they are based for work. This was a decisive moment in workers challenging the airline's exploitative business model, and partly led to Ryanair agreeing to recognise trade unions for the first time in December of that year.
Today's ruling reaffirms that cabin crew should be subject to the labour standards of the country in which they are primarily based, regardless of the nationality of their employer or their international flight schedule. This is vital to ensuring that crew are not excluded from the fair treatment experienced by other workers, including national pay scales and social security.
ITF and ETF have been leading the transnational campaign to clean up Ryanair's business model, demanding that all its workers are afforded trade union rights and fair pay and working conditions. We congratulate the Belgium-based crew and our affiliate CNE/LBC on their victory in court, and we now expect Ryanair to honour this ruling in all jurisdictions where it employs workers.
Tags: anti-union, EU, EU-registered airlines, European Court of Justice, labour standards, legal victory, Ryanair