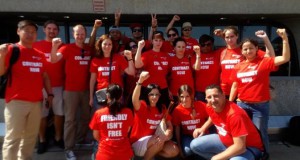 Delegates at the ITF young transport workers global committee meeting unanimously decided to interrupt their meeting on 16 July to support the worldwide day of action after hearing that negotiations between the AFA-CWA and United Airlines were at a standstill, with members deprived of their share of the airline's huge profits.
The union is demanding that United reaches a unified labour contract with its 24,000 flight attendants as promised after the airline completed its merger with Continental Airlines in October 2010.
AFA international president Sara Nelson said: "The bottom line problem is the company's unwillingness to put the required economic resources into a Flight Attendant Contract. That is unacceptable and we are going to stand up to make it clear to the company that we expect much more, especially now as United's profits are soaring."
ITF general secretary Steve Cotton commented that cabin crew deserved a fair contract and urged United to enter into effective negotiations. He added that the ITF, including its young workers, were proud to support the AFA-CWA's industry-wide day of action.
The action day took place in all the airline's 16 base locations, including London, Tokyo, Hong Kong and Washington Dulles, where new CWA president Chris Shelton and the ITF young workers joined in.
The committee meeting followed the ITF youth summer school, which 35 participants from 29 countries attended.
Show your support for the AFA-CWA on Twitter @afa_cwa and on Facebook. Tell United Airlines what you think on Twitter @united.
See how workers participated in the action day.