ITF welcomes back Turkish union Hava-Is
December 20, 2019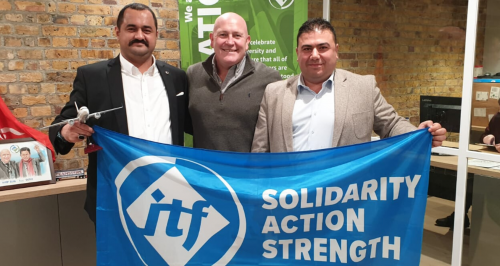 Hava-Is, the Turkish union representing a large number of workers in the civil aviation sector, has returned to the ITF family several years after disaffiliating.
Following a visit by two representatives to ITF House in London, general secretary Stephen Cotton has written to the union's president, Ali Kemal Tatlibal, enthusiastically welcoming back Hava-Is as an ITF affiliate. Hava-Is was in fact the first union from Turkey to join the ITF.
Mr Cotton noted that, "given Turkey's importance in aviation, particularly with the strength of Turkish Airlines and the New Istanbul Airport, Hava-Is will be in prime position to help build aviation workers' rights in Turkey and around the world."
"Building workers' rights and representing their position is core to the work of both Hava-Is and the ITF, and we look forward to working with you in this in the future."
Hava-Is' membership will formally commence in January, when over 20,000 Turkish workers will join their colleagues from other countries in fighting for strong labour standards in civil aviation.
Tags: Ali Kemal Tatlibal, Hava-Is, Turkey