ITF urges unions to sign petition for sacked union aviation workers
October 22, 2015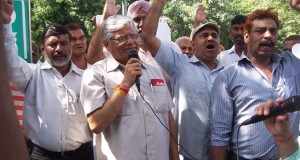 The ITF is urging its civil aviation affiliates to sign a petition to win justice for 55 workers sacked by Bird World Wide Flight Services (BWFS) in New Delhi for forming a trade union or trade union activity.
BWFS Karamchari Union (BWFSKU) was formed in August 2013 by employees of BWFS – one of the largest ramp handling companies in the city – and represents most workers in the firm. Immediately, the company's management terminated the services of 11 union members, including Omkar Singh, BWFSKU general secretary. According to Singh, most of them belong to the poorest section of society and were engaged as loaders and utility workers on less than India's official minimum wage.
In his petition Singh claims that when the union initiated conciliation proceedings through the government labour department, company managers 'provoked some workers and very cleverly declared the peaceful agitation of the workers as striking workers and terminated the services of 150 more workers. However, with the intervention of the labour department, 105 workers were reinstated but 45 workers are still jobless to date.'
He adds that BWFS managing director Gaurav Bhatia has refused to recognise the union or to accept its October 2013 'charter of demands' for proper service conditions and wage structures; and that mental and physical intimidation of workers had become commonplace. He said the union had pursued all channels but needed international support to achieve justice.
ITF civil aviation secretary Gabriel Mocho said: "We know that one of our affiliates is helping the BWFSKU and we urge all our civil aviation unions to sign Singh's petition to show Bhatia that the international trade union family will pursue justice for these workers."
Sign the petition to demand that Gaurav Bhatia reinstate the 55 workers, recognise the union, honour the charter of demands and end all victimisation of union workers.
Tags: anti-union, Bird World Wide Flight Services. BWFS, BWFS Karamchari Union, BWFSKU, Omkar Singh, TRADE UNION RIGHTS, union busting