ITF civil aviation unions set out route to congress
March 14, 2017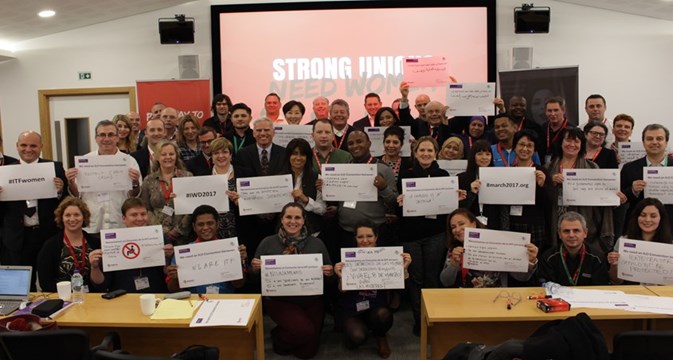 Campaign against flags of convenience in aviation, maximise organising efforts at low fare airlines, maintain pressure on Qatar Airways – just three of the priorities set for civil aviation by ITF unions in London.
120 participants representing civil aviation unions from 43 countries met in London 9 and 10 March 2017, with a cabin crew meeting on 8 March.
Globally, social media content from the event reached more than three quarters of a million people, with comments, photos and videos posted by participants.
Highlights from the event include:
The conference agreed to continue to campaign at every level against flags of convenience in civil aviation. Anneli Nyberg from the Parat union said: "In Norway we've had particular experience of this, it has happened so fast, and the ITF needs to move fast."
The participants debated the memorandum of understanding (MoU) between the ITF and OSM Aviation and decided that, based on the existing motion, further work was needed to find a consensus on the issue. ITF general secretary Stephen Cotton said: "This MoU is a response to the flags of convenience situation, it may not be a perfect response, but this is a beginning and it's about building union power. The Qatar Airways campaign, this MoU and Ryanair are all part of the same response to some of the worst practices in civil aviation."
Charly Bacon, a young cabin crew worker at BA who is on strike, met the participants and received their unanimous support for her dispute. (Watch the video here)
The conference called to step up attempts to campaign against the ultra low-cost airline model and continue efforts to win the right to union representation in Qatar Airways were unanimously supported.
Enyi Xu from the All-China Federation of Trade Unions, which has 302 million members and includes the National Committee of Aviation Workers' Union and its 486,000 members, addressed the event: "This is my first time address a global civil aviation meeting. We are already working together with the ITF, and I hope this will continue and deepen." He explained that China has 55 airlines, 210 licensed airports and 2650 registered aeroplanes.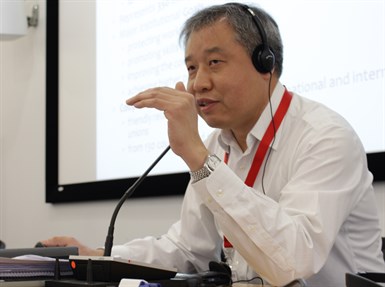 Cabin crew workers backed ITF efforts to make the civil aviation industry recognise, acknowledge and take the issue of cabin air quality seriously. Charlie Bass spoke about why he thinks his cabin crew son was killed by toxic air in the cabin. (Watch the video here)
The next stage of the ITF Pathway to Congress series is the Young Workers in Argentina on 28 March. Follow the latest news from each of the events via the ITF hashtag #WeAreITF.