ITF civil aviation unions lobbying over the big issues at the ICAO Assembly
October 3, 2016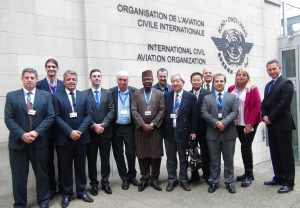 ITF civil aviation unions from across the world are lobbying their governments on key worker and industry issues at ICAO (International Civil Aviation Organization)* 39th Triennial Assembly, in Montreal.
The ITF presented two working papers and two information papers during the Assembly which began on 24 September. Civil aviation representatives from governments are a large part of the decision making process on issues tabled over the two-week period.
Among papers presented are those covering the need for restraints for the under twos on-board aircraft, the need for ICAO regulation for remote towers, air pollution at airports and it's potential negative impact on airport workers and major shortcomings of the draft multilateral agreement for further liberalisation.
Secretary of the ITF civil aviation section Gabriel Mocho said: "The issues the ITF is taking forward to the ICAO are the big ones, not just for unions but for passengers and for the industry. National lobbying is key to bringing these topics to the forefront of the agenda and that's what ITF affiliates are doing here, right now."
Before the Assembly the Section asked civil aviation unions to identify their government's ICAO liaison, to explain the purpose of the proposals in order to gain their support.
(*) ICAO is the United Nations organisation responsible for economic and safety regulation of civil aviation worldwide. Its General Assembly meets once every three years.
Tags: Air Quality, Assembly, ATRP, child restraints, ICAO, lobbying, remote towers