ITF and ETF welcome announcement that Ryanair chairman will step down
February 5, 2019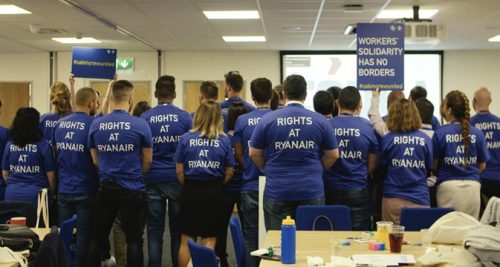 The International Transport Workers' Federation (ITF) and European Transport Workers' Federation (ETF) welcome today's news that Ryanair chairman David Bonderman will step down next year, just months after calling for him to be voted out by shareholders.
The announcement, which comes alongside the company's poor quarterly results, follows a period in which Mr Bonderman has been heavily criticised by trade unions and shareholders alike for failing to hold Ryanair's executive management to account.
Mr Bonderman has been chairman of Ryanair since 1996, part of a close leadership group including chief executive Michael O'Leary. He has already served over twice the term recommended as a maximum in order to retain independent challenge at board level.
Last September, ITF and ETF wrote to shareholders asking them to vote against the re-election of Mr Bonderman at the company's AGM. While he remained in position, with abstentions taken into account only 67% voted for him, making him the least popular chair on the ISEQ20 index. This level of opposition was over 10 times higher than for the average Irish company director in 2018.
The quarterly results also show a company struggling to meet expectations. Having issued two profit warnings in the last few months, Ryanair is now reporting a loss of €20 million in its third quarter. It has also announced a group restructure, with a new holding company overseeing four subsidiaries based in Ireland, Britain, Austria and Poland.
Stephen Cotton, ITF general secretary, said: "Mr Bonderman's departure is a great victory for the global trade union movement. Having taken on one of the world's worst employers, workers have shown that collective action can help shift dodgy corporate practices."
"The new chair will bear a great responsibility for bringing the company's industrial relations into the modern era. Especially in the context of these quarterly results, that means stabilising Ryanair's business model by concluding robust labour agreements with unions in every country the airline operates."
Eduardo Chagas, ETF general secretary, said: "Ryanair's corporate governance model has never had a place in a fair Europe. We welcome this opportunity for the company to reform itself, and we hope it makes the most of it."
"It is also vital that this restructuring of the Ryanair group, with semi-autonomous companies operating in different countries, does not become yet another tool for social dumping. No matter whether workers are based in Dublin or Warsaw, London or Vienna, they all have a fundamental right to decent pay and conditions. That is the basis of our ongoing Fair Transport campaign."
Tags: anti-union, corporate governance, David Bonderman, Michael O'Leary, Ryanair, union organising