ITF affiliates promote aviation safety in US Congress
July 18, 2019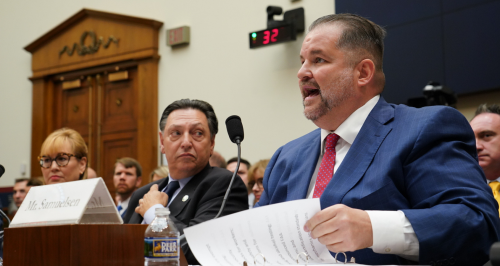 Yesterday [17 July 2019], ITF affiliates in North America travelled to Capitol Hill to testify before the US Congress on the critical issue of aviation safety.
John Samuelsen of the Transport Workers Union (TWU), Lori Bassani of the Association of Professional Flight Attendants (APFA) and Mike Perrone of Professional Aviation Safety Specialists (PASS) all spoke before the House of Representatives Subcommittee on Aviation on the vital importance of ensuring high safety standards in the air and on the ground.
Mr Samuelsen drew attention to the impact of US airlines offshoring aircraft maintenance, thereby avoiding the more stringent safety standards imposed by the Federal Aviation Administration within US jurisdiction. Congress has already twice demanded that the regulator and the US Department of Transportation act to eliminate this double standard, but nothing so far has been done.
He also spoke on the key health issue of air pollution, which particularly affects cabin crew through prolonged exposure to aircraft fluids leaking into cabin air supply. Unions are demanding that aircraft are equipped with sensors to alert crew to toxic fume events so that they can take action to protect themselves and passengers.
In the wake of the disastrous crash of Ethiopian Airlines flight 302, legislators also heard evidence from relatives of victims killed in the incident. The management of Boeing, which manufactures the 737 MAX 8 aircraft, is still facing questions over endangering the lives of both aircrew and the travelling public.
Tags: APFA, Association of Professional Flight Attendants, House of Representatives Subcommittee on Aviation, lobby, PASS, Professional Aviation Safety Specialists, Transport Workers Union, TWU, US Congress