International young workers camp organises new union members in Uganda
November 26, 2019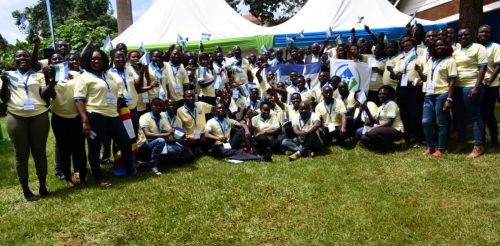 Nearly 500 workers have signed up to their local union as part of a young workers' camp in Jinja, Uganda, backed by the ITF.
Over 100 young workers are participating in the event, with representatives from Uganda, Nigeria, Côte d'Ivoire, Tanzania and Mozambique. The ITF part funded the event and sent an international delegation of representatives from the ITF's young transport workers committee.
As part of the camp, the young workers helped to clean up a minibus taxi park and spoke to informal taxi drivers; 189 of these drivers went on to join their local union. The event also saw 107 civil aviation and 190 private security workers unionise.
The host union, the Amalgamated Transport and General Workers' Union (ATGWU), has prioritised organising informal workers, particularly young transport workers, with remarkable success. An ITF report found that over 70,000 informal workers had joined the union in eight years.
The young workers also heard from the Ugandan minister of state for education and sports, and members of parliament during the five-day event.
Stephen Abima, the general secretary of the ATGWU, said: "The union has performed beyond expectations. No wonder this event has attracted politicians and organisers from other unions – this is historic for the ATGWU."
The camp was designed to encourage the young workers to engage in organising and campaigns in their community, network with other young workers and enhance their knowledge of the role they can play in their unions.
Tags: Amalgamated Transport and General Workers' Union, ATGWU, building union power, union organising, young workers