High level ITF delegation signs enhanced MoU in China
November 29, 2019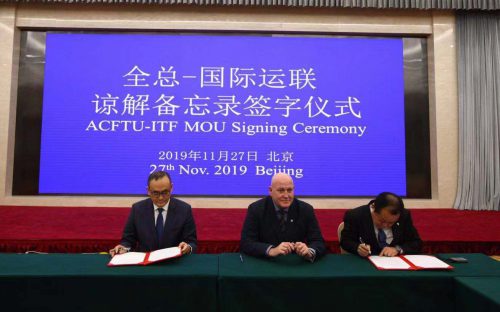 An ITF delegation, led by the general secretary Stephen Cotton, has visited China this week to enhance cooperation and understanding with the country's labour movement.
The visiting group included Asia Pacific members of the ITF's executive board and was arranged to fulfil the mandate set by the executive board to further the strategic relationship with the All-China Federation of Trade Unions (ACFTU).
Part of the mission saw an enhanced memorandum of understanding (MoU) signed between the ITF and the ACFTU. The MoU:
defines the cooperation between the two organisations
sets out the terms of engagement for the coming years
identifies sectors of possible future cooperation
Stephen Cotton commented on the mission: "The ITF is a global organisation that seeks to engage with the big players in the lives of transport workers; that is what this visit is all about.
"The renewed and improved MoU recognises that Chinese investment in transport infrastructure is unprecedented, it's affecting transport workers around the world. Increasingly, members of ITF-affiliated unions are encountering and interacting with Chinese employers in every region of the world.
"The ITF's role is to be there at the table where these projects are planned, having the conversations on behalf of our workers. We will be working together on issues such as sustainable transport, shipping, high-speed rail, aviation, one belt one road transport initiatives. I look forward to this enhanced MoU delivering quantitative outcomes giving a voice to transport workers engaged in these areas."
Both sides have agreed to facilitate cooperation through further high-level visits, working visits, workshops, training seminars, academic exchanges and other channels.