Ground staff are at the centre of global changes
November 18, 2016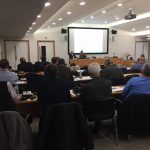 The Civil Aviation Section held important meetings under the auspices of the Ground Staff Committee on 8-9 November 2016: Lufthansa Technik Union Network Meeting, MRO Working Group Meeting and Swissport Working Group Meeting.
Establishing union networks and creating ad hoc working groups is vital at a time when working environments are changing dramatically for thousands of ground staff employed in airports around the world as their jobs are divided into discrete service areas and thrown to the highest bidders, following the four levers strategy agreed in Congress (lead industry players).
This was once a secure and unified sector in which most staff expected permanent employment with an airport or airline. But airports and airlines are now racing to sell off or subcontract their terminal and aircraft handling services in a frenetic bid to cut costs. This is why these efforts are part of the Airports Organising Priority project.
Check-in staff, baggage and freight handlers, aircraft cleaners, refuellers and maintenance staff are finding they have new employers, new contracts, new targets to meet, and a narrower, more profit-driven corporate philosophy to get to grips with.
Civil aviation continues to experience growth rates of 3 to 8 percent per year. Growth means more jobs, but in the new cost-controlling market no-one is expecting jobs to materialise proportionately with the increase in productivity.
Global companies more and more dominate ground service provision. They save money by buying equipment centrally, duplicating their information technology and support systems and sharing know-how within their networks. This is why aviation unions need to build trade union networks on shifting the balance of power in line with the Sofia Congress decisions.
In the meantime, free trade agreements – particularly TiSA – are posing new threats to ground staff. Secretariat's presentation on TiSA and other trade agreements drew a lot of interest. In this respect, the new report by the ITUC on TiSA including contriburions from ITF and other GUFs was very timely. The report is available in four languages: English, German, Spanish and French. ITUC also prepared a leaflet on TiSA in those four languages as well: EN: http://www.ituc-csi.org/all-about-tisa, DE: http://www.ituc-csi.org/alles-uber-tisa, ES: http://www.ituc-csi.org/el-acs-en-detalle, FR: http://www.ituc-csi.org/a-propos-de-l-acs
Tags: Airports United, Lufthansa Technik, MRO, Swissport, TISA