Flights cancelled as strike in Chile bites
September 15, 2015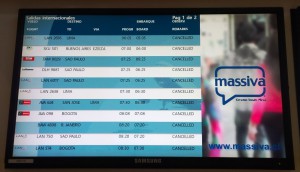 Chilean air traffic controllers joined in the strike action called for on 15 September 2015, by the workers of the General Directorate of Civil Aviation (DGAC) as they confirmed beforehand.
Flight cancellations are abound in Chile at the moment. The photo is from the Santiago Airport.
You can find further information about the dispute and the ITF's involvement here and here.
Tags: ANFDGAC, Chile, dispute, industrial action, strike