Factsheet to help protect airport workers from air pollution
November 11, 2016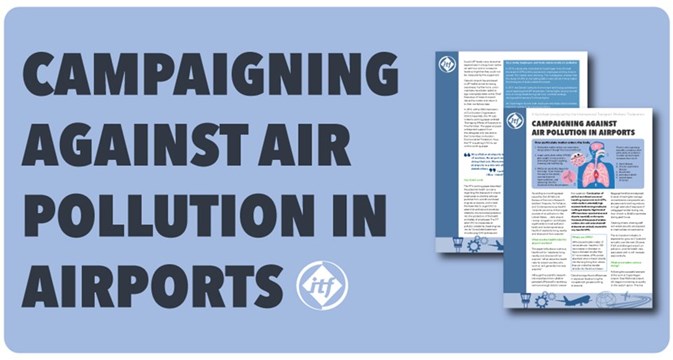 The ITF has produced an air quality factsheet to strengthen aviation unions' efforts to combat air pollution at airports, which is a serious and overlooked work-related threat.
Workers working close to exhaust from aircraft engines and diesel engines in airports are exposed to a complex mixture of potential health damaging air pollutants. The main concern is related to ultrafine exhaust particles (UFPs) from aircrafts and diesel engines. Ultrafine diesel particles are known to cause cancer, heart disease, blood clots, brain haemorrhage and airway diseases, therefore increasing the risk of serious work-related illnesses and premature deaths.
The National Board of Industrial Injuries in Denmark has now recognised several cancer cases which are most likely caused by air pollution in airports.
But these are just the first steps and there is very long way to go for aviation unions all around the world. Therefore, the ITF and its affiliated aviation unions are taking action to tackle the problem, both at the global and national levels. The factsheet gives examples of what aviation unions are doing to assess and combat the situation, and sets out campaigning objectives for the ITF's air quality working group, which was set up in 2015 to co-ordinate union campaigning on the issue.
ITF civil aviation secretary Gabriel Mocho said: "The ITF is addressing the hazards of exposure to air pollution because we need to protect the health of our airport workers.
"The civil aviation industry is expected to grow at 3.1 per cent annually over the next 20 years, so if left unchallenged, airport air pollution will increase exponentially. We hope our new factsheet will help unions see what more they can do to tackle the problem."
Download the new factsheet here.
Contact the ITF air quality working group by emailing ITFAirQualityWorkingGroup@itf.org.uk.
Tags: Air Quality, airports, factsheet, Ultra fine particles