Aviation workers picket White House over Norwegian Air (12news.com)
May 13, 2016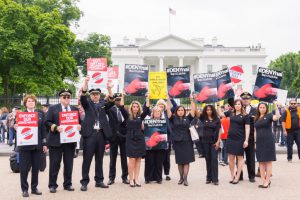 Norwegian Air International, a low-fare airline that recently won its first step toward approval for flights to the U.S., drew protests Thursday from rival workers who contend the bargain jets would skirt labor and safety laws.
Hundreds of aviation workers chanting "Deny NAI" picketed in front of the White House on Thursday.
Unions for pilots, flight attendants and mechanics claim Norwegian Air International, a subsidiary of the low-cost European carrier Norwegian Air Shuttle, located its headquarters in Ireland to dodge tough Norwegian labor laws that prohibit them from hiring contract pilots who may work for lower wages.
View the full story here>>
Tags: #DENYnai, aviation FOCs, Norwegian, protest, race to the bottom