Aviation workers: Join the ETF's Fair Transport Demonstration on 27 March!
March 12, 2019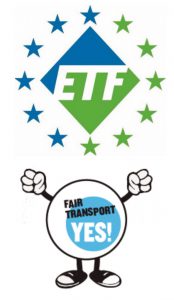 Dear Colleagues,
As you well know, next 27 March in Brussels, the ETF organizes a demonstration to fight against social dumping and for more and fair jobs in Transport.
Aviation workers should not only be part of this demo, but also be visible. Please find attached the banner 'Ryanair must Change' that we will be holding during the rally. Please come and join with us.
I have made a video to mobilise our troops. Please circulate it largely among all your members.
https://www.youtube.com/watch?v=ZJ0DHhcPVhA&feature=youtu.be
We meet each other at the latest next 27 March, in Brussels.
In Solidarity,
François Ballestero
Political Secretary Civil Aviation & Tourism
European Transport Workers' Federation