Airport workers mark the start of a season of action
September 2, 2019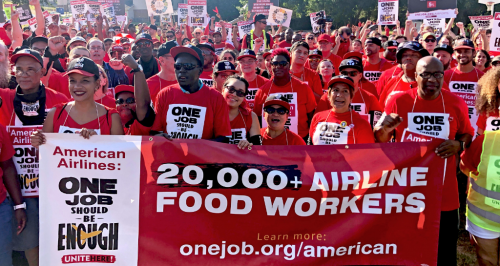 Airport workers around the world are gearing up for a season of action to demand fair pay and working conditions in key aviation hubs.
Yesterday [1 September 2019], in Canada, the Toronto Airports Workers Council celebrated Labor Day by hosting a cross-party group of politicians ahead of upcoming elections. In an open session at Pearson International Airport, workers grilled candidates from the Liberal, New Democratic and Green Parties on issues such as precarious work, contract flipping and provisions for a federal living wage.
In Thailand, the ITF-affiliated Wingspan Workers Union (WWU) has announced its conversion from a company union to an industrial union representing all airport workers. WWU membership is now open to all workers in Thai airports, regardless of their employer. This is an important step in overcoming the fragmentation of the airport workforce and building labour power across occupational divides.
Meanwhile, in Indonesia, cabin crew organised by Ikatan Awak Kabin Garuda Indonesia (IKAGI) continue to fight back against Garuda's union-busting efforts. IKAGI's general secretary, Jackie Tuwanakotta, was prevented from making a solidarity visit to Toronto by the company's attempt to sabotage the union's finances. Canadian and Thai unions, along with many other ITF affiliates worldwide, have condemned Garuda's actions and pledged to support IKAGI in securing basic union rights in line with Indonesian law.
Later this week, catering workers employed by LSG Sky Chefs will meet in Frankfurt and London to coordinate plans to improve pay and working conditions, and to scrutinise the planned sale of LSG by Lufthansa Group. This follows actions taken in the USA last month in which 58 workers organised by UNITE HERE were arrested for civil disobedience outside the headquarters of LSG client American Airlines.
The ITF has been active in coordinating local and national campaigns in recent years through its airports organising programme and civil aviation section. We continue to support airports workers everywhere in demanding a fair deal from their employers.
Tags: airport workers, IKAGI, Ikatan Awak Kabin Garuda Indonesia, LSG Sky Chefs, Toronto Airports Workers Council, UNITE HERE, Wingspan Workers' Union, WWU