Airport safety & security at risk because of poor working conditions, report shows (twu.com.au)
May 31, 2016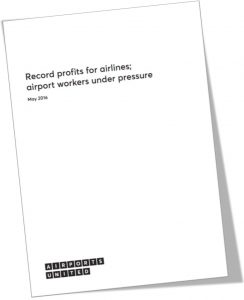 Australian airport employees will this week join workers across the world to protest low wages and insecure work as a report shows poor working conditions are affecting safety and security in air transport.
The report by the International Transport Workers' Federation is being published as aviation executives gather for a global air transport summit in Dublin.
The report shows that a high turnover of lowly paid staff which is inexperienced and poorly trained leads to less vigilance on security risks and safety hazards. It highlights Sydney airport where "at any one time there are hundreds of workers with a temporary pass, those who have not yet had background security checks".
Airport workers across Australia will call for full time work amid low pay in an industry which makes over $AUS50 billion, according to the report. They will join protesters in Ireland, Germany, the Netherlands, Sweden and the US in calling for change as the International Air Transport Association annual general meeting and World Air Transport Summit kick off on June 1st.
"Over 40% of aviation workers here are on part-time hours; almost 40% take home $700 or less per week. We know this problem is not confined to Australia and because conditions for staff are being driven down elsewhere it is having an effect on conditions here because of the government's 'Open Skies' policy. Not only does this mean working families are struggling it clearly impacts on airport safety and security as this report demonstrates," said TWU National Secretary Tony Sheldon.
Sydney Airport baggage handler Asha Walter, who works for Qantas-owned QGS said: "No one employed at QGS is on full-time hours. People just want to be able to provide for their families but this is impossible. Qantas are posting record profits while we are seeing our conditions going down," he said.
The report lists Qantas and Sydney Airport among the airlines and airports with the highest profits worldwide.
The reports adds:
Average weekly wages across the airport operations industry did not keep up with inflation, but fell in real terms by 14% from 1991 to 2011.
Baggage handlers saw their average hourly wages drop by 45% between 2002 and 2012, while the number of jobs in the area which were subcontracted more than tripled – from 25% to 84%.
By 2012, even the highest paid subcontracted workers in these ground-based airport occupations earned less in real terms than the average directly hired worker in the same job a decade ago.
You can download the report from here>>
Tags: airport workers, Airports United, International Air Transport Association, report, safety, security, TWU
One Response to "Airport safety & security at risk because of poor working conditions, report shows (twu.com.au)"