Airlines recovery in the Arab world
April 6, 2021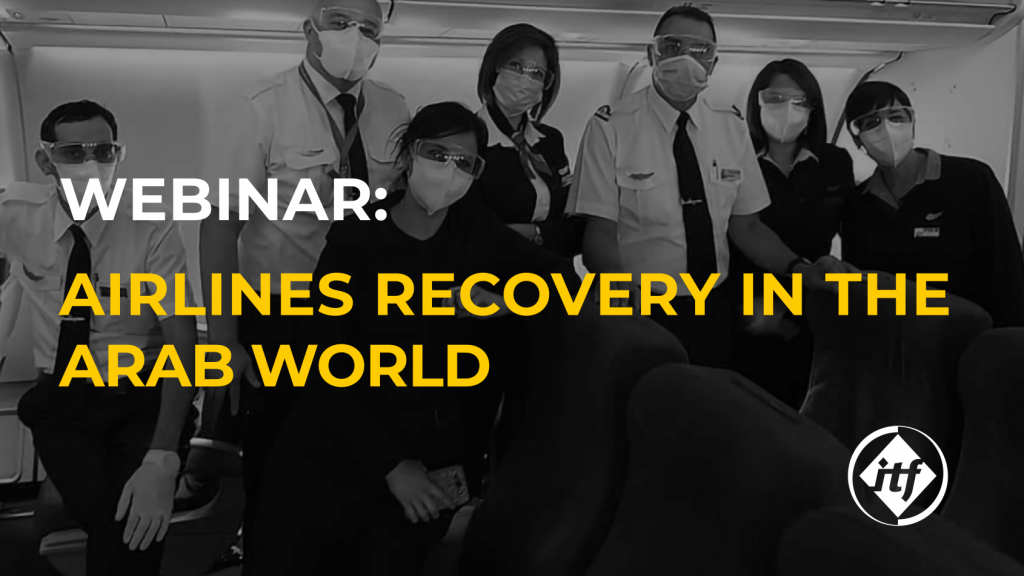 The COVID-19 pandemic has been unlike any other crisis encountered by our industry. Thousands of jobs were lost, and the future of aviation post – pandemic is still uncertain. As the world reopens, we must look at how jobs can be retained, workers' health and safety protected and how union infrastructure can be strengthened to ensure sustainable reform globally and in the Arab world region.
As we move from recovery to reform, tripartite aviation organisations must come together to rebuild a better, safer and more sustainable aviation. To achieve that it is key to keep workers at the heart of the process.
We invite you to join the ITF's webinar on the AIRLINES RECOVERY IN THE ARAB WORLD, where you will hear from regional aviation industry leaders. During this live session, panellists will discuss solutions and future plans for the recovery of aviation.

Panellists

Kamil Al Awadhi, Regional Vice President for Africa and Middle East (IATA)
Stephen Cotton, General Secretary, International Transport Workers' Federation (ITF)
Amine Debaghine Mesroua, Chief Executive Officer (Air Algerie)
Rossen Dimitrov, Senior Vice President Customer Experience (Qatar Airways)
Ilham Kazzini, Senior Vice President of Development & Support (Royal Air Maroc)
Mohamed Smaoui, Deputy Regional Director, Middle East Office (ICAO)
Seddik Berrama, ITF Vice President and Regional Chair of the Arab World, will open the session.
Presentations will be given by Bilal Malkawi, Arab World Regional Secretary (ITF) and Gabriel Mocho Rodriguez, Civil Aviation and Tourism Services Secretary (ITF)
Live interpretation will be available in Arabic, English and French
Time: April 13, 2021 11AM in London
Register here: https://itf-org-uk.zoom.us/webinar/register/WN_l5LtceBzSpStaqgTJEvbeA
Panellists biographies

Kamil Al Awadi, is the IATA's Regional Vice President for Africa and Middle East. He was CEO of Kuwait Airways, a responsibility he held from November 2018 through August 2020. That capped a 31-year career at Kuwait Airways during which his positions included Deputy CEO and Chief Operating Officer. Al-Awadhi has also held several positions in the areas of safety, security, quality management and enterprise resource planning.
Stephen Cotton is the General Secretary of the International Transport Workers' Federation (ITF) – a global union federation of almost 700 trade unions representing 20 million workers in 147 countries in the transport industry. He was re-elected to the position at the 44th ITF Congress held in Singapore in 2018. Mr. Cotton is also Chair of the Council of Global Unions (CGU) the partnership between the International Trade Union Confederation, global union federations and the Trade Union Advisory Committee to the OECD.
Amine Debaghine Mesroua, held several positions in the transport sector including air transport, he is also an international expert in civil aviation and representative of Algeria and the Maghreb region on the board of the International Civil Aviation Organization (ICAO).
Rossen Dimitrov, is a former Senior Vice President – Customer Experience at Qatar Airways – Skytrax award winning – 'Airline of the Year 2015'. Rossen directly reports to the Group Chief Executive Officer of the airline and leads a team that is focused on listening to and serving customers' needs. His organisation helps develop and resource customer service training and solutions for all customer facing staff. He leads the division which has the following departments under him – Cabin Crew, Recruitment, Cabin Services and Safety Training, Product development, Lounges, In-Flight Services as well as all other Customer Experience and Service Delivery areas. Rossen has more than 20 years of experience in the aviation industry with a focus on Cabin Crew Management & Training, In-Flight Services, and Customer Experience. He is also a professional commercial pilot.
Mohamed Smaoui, is the Deputy Regional Director of the ICAO Middle East Office. He began his civil aviation career with the ANS Service Provider and Aerodrome Operator of Tunisia (OACA) in 1992, where he had been involved in CNS/ATM operations and aerodrome planning and infrastructure projects. Mr. Smaoui joined ICAO in 2001 as Regional Officer AIM. In addition to his AIM responsibilities for both the MID and EUR/NAT Regions, he has been in charge of the ATM and safety activities for different periods during his career with the ICAO MID Office. He has been also an ICAO approved ANS Auditor within the USOAP programme since 2006.
Ilham Kazzini joined Royal Air Maroc in 2000 to be in charge of revenue management and recipe optimisation, after a preparatory class at the Lycée Mohammed V and engineering studies at Supélec Paris. Between 2008 and 2009, she was appointed regional representative of the Grand Casablanca region. Between 2009 and 2011, Ilham Kazzini held the position of head of international agreements and commercial piloting. She was Marketing and Customer Service Director between 2011 and 2012, before finally occupying the position of Senior Vice President of the Development and Support division. She thus manages the HRD, the DOSI (Organization and Information Systems) and the Purchasing and General Affairs department.
Tags: Amine Debaghine Mesroua, Arab world, COVID-19, Ilham Kazzini, Kamil Al Awadhi, Mohamed Smaoui, protecting jobs, recovery, Rossen Dimitrov