Air India unions launch a joint campaign against privatisation
May 3, 2018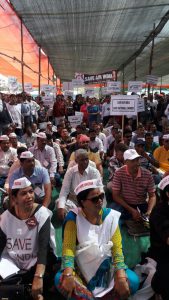 Air India employees and their unions (comprising 10 Air India unions) recently launched a joint campaign against the proposed privatisation of the national carrier.
As part of their joint campaign union activists have taken the following actions so far:
Gate meetings and sectional meetings by joint forum 15 March to 15 April 2018.
Representation and meetings with Parliamentary Committee on Civil Aviation.
"Save Air India" Black badges worn by all Air India employees met with all opposition parties to seek support.
Meeting with CMD of Air India with leaders of Joint Forum.
A door to door campaign in Air India Colonies to mobilise participation in Protest March on 1 May 2018.
On May Day thousands of Air India workers, as well as their family members and supporters, took to the streets with a march from Flora Fountain to Azad Maidan.
The joint forum announced that an alternative plan to run the airline is in the making, and the same would be presented to the government. The forum includes,
Aviation Industry Employees Guild,
Air Corporation Employees Union,
Air India Employees Union,
Indian Aircraft Technicians Association,
All India Service Engineers Association,
All India Cabin Crew Association,
All India Aircraft Engineers Association,
Air India Aircraft Engineers Association,
Air India Engineers Association,
Air India United Officers Association,
Indian Airlines Retired Employees Association,
Air India Retired Employees Trust.
The joint forum will hold a convention in Chennai soon, and a massive rally is being planned in Delhi.
Tags: Air India, dispute, industrial action, privatisation